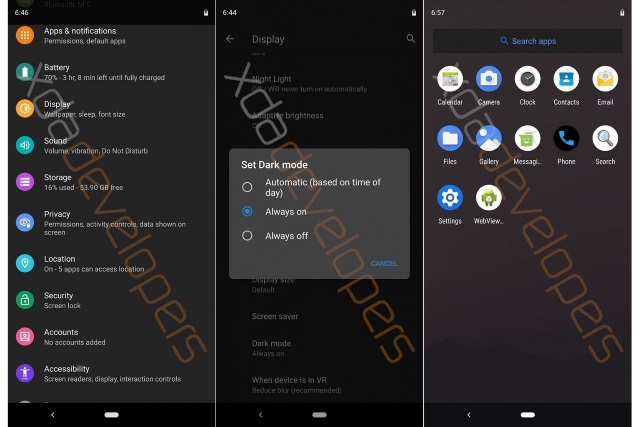 It has been only three months since the most recent version of Google's mobile operating system, Android Pie, has started rolling out and we already have some fresh news about its successor. A recent purported leaked build of Android Q revealed some of its features, such as the highly anticipated dark mode, and a new structure and interface of permissions, thanks to which users will gain some additional control over privacy in their apps.
Android Q will give us more privacy options
According to XDA Developers, who are behind this leak, the next gen Android Q will bring us some much needed improvements when it comes to privacy. Many users have been rather unsatisfied with the security side of Android Pie, especially since various tech invasions made them all worried in the past year. Amongst these improvements we will see a new permissions option, which will allow us to select "only while app is in use". Moreover, users will be provided with more advanced reporting on the resource usage of each app, a detailed information on how an app uses our data, and an overview of the frequency with which the permissions are invoked.
Dark modes will be improved on Android Q
There has been a lot of talk about dark modes recently, especially since most smartphones use OLED displays, which are consuming much more power than older variants of screens. Dark modes effectively extend the battery life and its first effects we can see on Android Pie, which now allows users to switch them on. Still, this feature needs further improvements that will optimize the dark mode on every app that runs on the device, and Android Q will surely address all possible issues that we might encounter while using dark modes on our smartphones.
Juana loves to cover the tech and gaming industry, she always stays on the first row of CES conference and reports live from there.