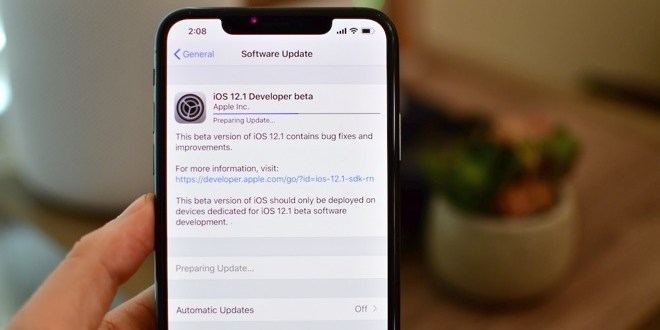 iOS 12.1 is now available and it brings a variety of new and useful features. Among the most notable additions, we can count the introduction of 70 new emojis, the addition of Group Face Time that allows you to interact with up to 32 persons at the same time and a new battery manager that should extend battery life. Some features introduced by the update are only available on the 2018 models, like dual-SIM support.
The beta for the iOS 12.1.1 is already available but you should consider the facts listed below before you decide to try it.
It's obviously a beta
While there is nothing inherently wrong with trying a beta version, you should keep in mind that they are not meant for daily usage. Betas are used in order to identify bugs, and they usually contain a high number of bugs that could make your iPhone unstable.
When will Apple release the stable version?
The exact date is not yet available (since the beta has only started) but it should come in the following weeks. Update are usually released globally at 10 AM Pacific Time.
Added features
For now it seems that iOS 12.1.1 is mainly a maintenance update that should fix some of the bugs that still plague iOS 12. Some changes focus on security, particularly when it comes to server authentication certificates. A minor UI update will improve your Face Time Live Photos experience as you can now mute and flip the camera.
Jailbreak news
Since a jailbreak for iOS 12 is not yet available people that want to jailbreak their devices should stick with iOS 11 since there is no way to downgrade from a superior version.
Back up your device data often
If you plan to try the iOS 12.1.1 beta or upgrade to the freshly released 12.1 you should manually back up your data on a laptop or computer. The process requires iTunes and is relatively quick. If something goes wrong, you will be able to recover your data in a few minutes and with just a few clicks.
Agnes is a technical writer, being in touch with reports to come up with the latest tech leaks.